26 Seater Maharaja Tempo Traveller Hire in Delhi
100 % Best Facilities
Price starts at
---
Rs.
39/KM
Rs. 35/KM
Exclude Other Tax
Thank You !
Maharaja Tempo Seating:
Seating Type : 2X2
11 Seat on Left Side
10 Seat on Right Side
5 Seat on Sofa Backside
1 Driver Seat
---
Booking Form Tempo Traveller
---
Hire in
Local City
Pricing For local City
Availavle 7 to 26 Seater
Min Hour - 8Hr
Start Price - 8000/-
Only Fuel Include
Driver Charge: Rs. 900/- @Day
Extra Hour Charge- Rs.800/- @Hr
Parking Fee Not Include
Hire For
Outstation
Pricing For Outstation
Availavle 7 to 26 Seater
Start Price - 11000/- Per Day
Only Fuel Include
Driver Charge: Rs. 800/- @Day
k.m. 250 per day
Parking Fee Not Include
---
Best of Facilities of Maharaja Tempo Traveller
Night moon lighting

We have modified tempo traveller with magical moon lights
Surround Sound

Make your trip with music all over surround sound.
Comfortable Seat 2X2

More confirtable seating with 2X2.
LCD System

Let's Watch your favourte TV Show or Movie having your fun trip.
Mobile Charging Point

We understand your requre during the trip ever be conecting.
Extra Ample Space

Get Extra ample space in maharaja tempo traveller.
A/C Vent

A/C vent is available on individual seat.
Push Back Seat

Take Relax and relief your neck and back with push back seat option.
Seating Plan of Maharaja Tempo Traveller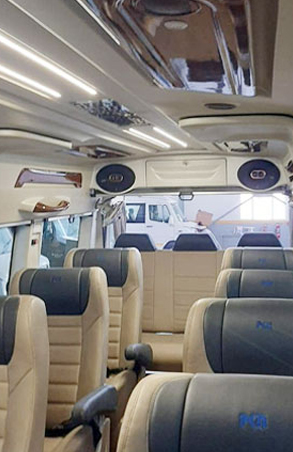 ---
Available All Kind of Tempo Traveller
Business Class Tempo Traveller
---
Delhi to Outstation Tempo Traveller Hire On Rent
---